Meet The Team – Lewis Taylor – Group Commercial Manager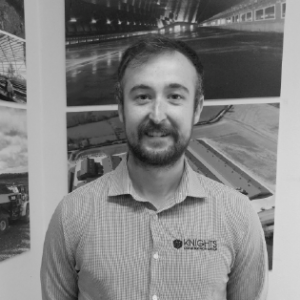 Lewis Taylor
Group Commercial Manager
15+ years industry experience
Lewis started with Knights Construction Group around five years ago, having previously worked with a large national Main Contractor as a Quantity Surveyor for over 10 years. He immediately identified that there was clear potential for growth and was excited by the variety of contracts that were being delivered, as well as the work ethic of senior management. Lewis was keen to be part of the Knights Construction journey and since joining, the business has expanded into new markets, meaning Lewis has grown into his role and now oversees all commercial activities across all business divisions inclusive of pre-construction, estimating and contractual matters.
How did you get into Construction? What attracted you to the industry?
I was always interested in the design and construction of large buildings and had a taster of working in the industry when I spent two weeks in the Architects department at Flintshire County Council for my work experience. From there the opportunity arose to be taken on by a respected main contractor as part of a Trainee Quantity Surveyor scheme. I joined the industry aged 16 and by the time I was 18 I was managing my own minor works projects for clients such as The University of Liverpool, The Home Office and Amec Legacy Projects. I became fully qualified aged 23, by which point I was managing multi-million pound projects as lead QS.
What would your advice be for anyone looking to pursue a career in commercial construction?
If you've got an interest in construction and like the thought of playing a key role in the delivery of projects then it's definitely worth pursuing. The normal route in to the commercial side of the industry is by training to become a Quantity Surveyor or an Estimator but that's not to say there aren't other routes. A drive to help the business perform and make money is also important.
What do you aspire to be doing in five years' time?
I hope to continue in my current role with the aim of expanding Knights Construction Group into new markets and continuing to aid growth.
What is your favourite thing about working in the construction industry?
Every day presents different challenges and I enjoy being a part of the process in overcoming such challenges. Having the ability to make key decisions that impact the outcome of a construction project is something that drives me and I also thrive off being part of the sales process and get a real sense of achievement from helping bring in new schemes for the business.
What excites you about the direction in which construction is headed? Are there any innovative practices or technologies that interest you?
Knights are already heavily involved in the renewables industries having designed and built a number of Combined Heat and Power plants, Anaerobic Digester facilities and Biomass Units. There is a real push on carbon efficiency and general sustainability throughout all industries in the UK at the moment and it's something I am personally glad to see and I take great enjoyment in being involved in projects that ultimately aim to reduce our overall environmental impact.
What are you learning 'on the job' from your colleagues at Knights? Have you acquired any mentors and if so who and what have they taught you?
In the time that I've been with Knights my knowledge of civils projects has increased and having been heavily involved in our own developments I now have a much greater understanding of the planning and pre-construction phase of projects.
Which division of Knights Construction Group most interests you and why?
I would have to say our Build Division, we have priced and secured a number of exciting projects this year including a £3.5m barn conversion development in High Wycombe which has a number of challenges from a design and planning perspective which I am currently enjoying getting my teeth stuck into.
What have been your biggest highlights during your time at Knights Construction Group to date?
As I've already mentioned I get a lot of satisfaction from being involved in the pre-construction phases of projects, working with the design team, planners and client to arrive at a feasible solution. Particular projects of note where all of these factors have applied include;
How do you like to switch off when you're not working?
Outside of work I'm fairly active and enjoy kayaking, hiking, tennis and other racquet sports. I also like to put my feet up and watch a film with a good IPA!